Introducing the EWS software
To safely handle requests from Law Enforcement Agencies
only available as deployment to customer's premises
Contact us!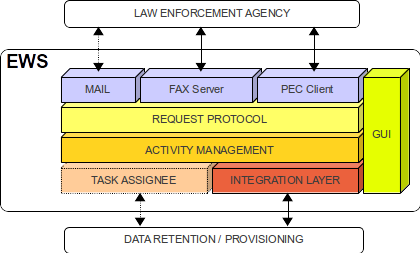 The easiest choice for telecommunication operators
Extensible Workflow System (EWS) is the information system to fulfill Telecommunication operators requirements to handleLaw Enforcement Agency (LEA) data requests, like traffic data, voice interception, customer data from phone numbers and many more.
The system receives requests from LEAs, allows to generate tasks for specific and configurable departments within or without the company. When all information is retrieved, it generates responses to requesting LEAs, sends them and securely deletes sensitive data only -as it leaves all data for invoicing. All that in a secure and extensible environment. The invoicing module completes the process in compliance with LEAs billing requirements. An extended filtering of which activites to invoice provides the invoice total amount of the filtered activities, also by LEA.

EWS fulfils security requirements such

Data encryption.
Role separation of administrative users and operation users.
Cryptography of communication channels.
Centralised and encrypted log.
Auditing and denial of service when attack to the application is detected.
Application access report.
SLA handling for LEA requests.

EWS currently satisfies the following* LEA requests

Lawful interception requests, including extensions and premature stops
Master data requests
Phone call list requests
Service blocking requests
URL filtering requests

EWS currently satisfies the following integrability and scalability needs

Scalable architecture in Java Enterprise, in order to ease system integration
Application server JBOSS and Tomcat
Integration with Fax server and PEC (Italian custom protocol for secure email) in both directions.
Natively integrable with data retention systems**
Automatic filling in of responses to LEA and PDF/email generation and sending
Internal ticketing system for request processing

EWS is able to handle

Incoming requests (email, fax, PEC)
Activities needed to satisfy LEA requests
Multiple tasks for each activity
Document creation by means of templates
Response to LEA with annexes from workflow
Invoice generation and output for southbound billing systems
Customisable reports
Tracking of sending receipts and secure deletion of sensitive data upon succesfull sending

Customizable

It is possible to develop any customisation to the product, like activity types or integration with data retention systems, including data consolidation.

Added value

Professional support to optimally configure and use EWS is included.